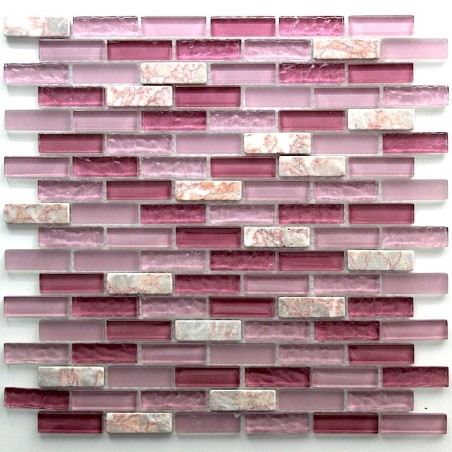  
Mosaic bathroom shower kitchen glass and stone Rossi Brique
Mosaic glass and stone non-slip for shower floor, of bath, or kitchen splashback.
carrelage-mosaique ® offers a range of products adapted to your kitchen splashback, bottom of Hood, plan of work, your Italian or your bathroom shower.

Delivery in colissimo:
France: 48-72 hours
Europe: 4-5 days.
Garanties sécurité
(à modifier dans le module "Réassurance")
Politique de livraison
(à modifier dans le module "Réassurance")
Politique retours
(à modifier dans le module "Réassurance")
Tiles-mosaic®, specializing in glass mosaic and stone, offers different models to beautify your kitchen splashback, Italian, shower or your walls and floors of bath, Hammam...
Our company located on Paris (idf), offers for a few years now, the opportunity to buy our glass mosaic and stone via our website and choose to receive your order on the spot (Paris idf) or by delivery in colissimo (La Poste).
Our mosaic and glass tiles and stone, gloss or matte are perfectly impermeable and highly resistant to chemicals, high temperatures, as well as abrasion.
Take advantage of the brightness and the brightness of this material, to brighten up your parts of water (bathroom, Italian shower, pool, spa, hammam...) or your kitchen, sideboard, plan of work...

Composition of a plate of glass mosaic and stone:
Each pane of glass and stone is set over a nylon frame that forms a large plate)± 30x30cm). This facilitates the installation of glass mosaic.
Glass mosaic grouting and pierre:
The installation of plates of glass mosaic and stone, must be made on a medium rigid, regular, smooth, dry and dust-free.
It uses the same glues and tools for the installation of a tile or a traditional mosaic.
Tile cutting is done with a simple pliers or pliers to mosaic.
The mosaic tiling of glass and stone is done in two steps:
The first is to apply the glue on the support with a Tiler comb (2 or 3 mm).
Then you turn the plates the next to each other.
The second step (after drying of the first stage), is to make the joints between the tiles with a plastic trowel and clean the excess glue with a damp sponge.
Cleaning, maintenance of glass mosaic tile and stone:
The maintenance is done with a damp sponge, or a household product current.
Never use of cleaner too abrasive, corrosive or brush or scourer.
Tiles dimensions: 15 x 48 mm
Total plate dimensions: 300 x 300 mm
Plate thickness: 8 mm
Price for a plate.
To make 1 m 2, must be 11 mosaic plates.
splashback glass, plate glass, plate glass and stone, glass and mosaic stone, mosaic Italian shower, wall mosaic, mosaic floor, mosaic bathroom, floor mosaic shower glass and stone, mosaic laying, buy cheap mosaic, mosaic reseller, Mosaic Mosaic hammam anti slip, mosaic floor shower room bathroom, mosaic, floor shower anti slip, floor bathroom anti slip
Data sheet
Width

30 cm

Depth

8 mm

Height

30 cm

Weight

1,5 kg

Matiere

verre et pierre

Aspect

mat et brillant

Quantite

1 plaque

taille carreaux

1,5 cm x 4,8 cm
Customers who bought this product also bought: