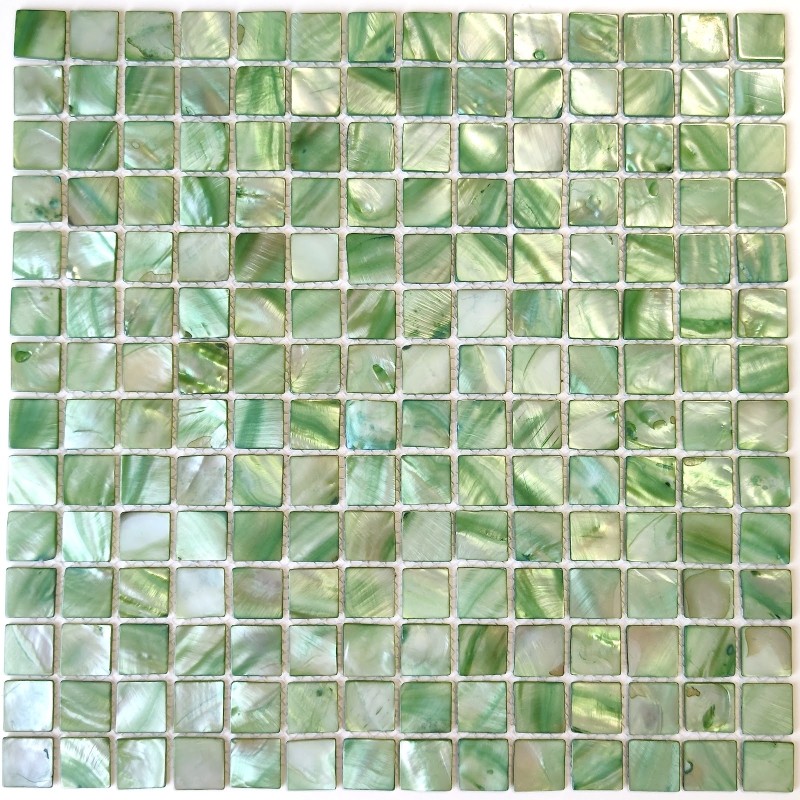  
Shell mosaic tile kitchen and bathroom Nacarat Vert
Mosaic of Pearl, kitchen backsplash, mosaic shower, mosaic bathroom.
Carrelage mosaique ® offers a range of products with natural and shimmering reflections that will bring a shine iridescent and refined to your decoration.
Delivery in colissimo:
France: 48-72 hours
Europe: 4-5 days.
Garanties sécurité
(à modifier dans le module "Réassurance")
Politique de livraison
(à modifier dans le module "Réassurance")
Politique retours
(à modifier dans le module "Réassurance")
With its natural and shimmering reflections, shell mosaic tile brings a glow iridescent and refined to your decoration. Resistant to water and heat, mother-of-pearl mosaic magnifies the ceilings, walls and soils of baths, spas and steam rooms.

These mosaics are made from shells of freshwater.
The surface is enhanced by a protective varnish. The nacre is a naturally ecological and mineral source material: biodegradable and renewable. Timeless elegance is accompanied by exceptional resistance.
Mother of pearl mosaic installation tips:
The plates of mother-of-pearl mosaic laying, shall be made on a medium rigid, regular, smooth, dry and dust-free.
It uses the same glues and tools for the installation of a tile or a traditional mosaic.
Tile cutting is done with a simple pincers, pliers to Mosaic, angle grinder or grinder.
The mosaic tiles of Pearl is done in two steps:
The first is to apply the glue on the support with a Tiler comb (2 or 3 mm).
Then you turn the plates the next to each other.
The second step (after drying of the first stage), is to make the joints between the tiles of Pearl with a plastic trowel and clean the excess glue with a damp sponge. 
Cleaning, maintenance of pearl mosaic tile:
The maintenance is done with a damp sponge, or a household product current.
Never use of cleaner too abrasive, corrosive or brush or scourer.
Sheet size: 300 x 300 mm
Plate thickness: 2 mm
Price for a sheet. 
To make 1 sqm, must be 11 Sheets.
Data sheet
Width

30 cm

Depth

2 mm

Height

30 cm

Weight

0,9 kg

Matiere

Nacre coquillage

Aspect

brillant et irise

Quantite

1 plaque

taille carreaux

2 x 2 cm

Surface

1 plaque, 0,09 m2

Couleur

Vert
Customers who bought this product also bought: