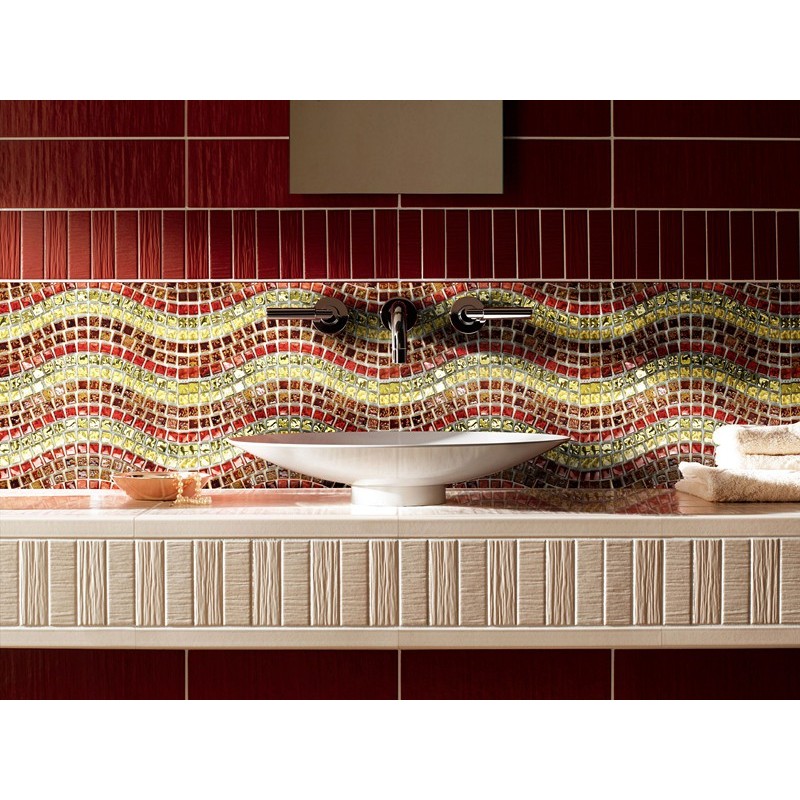  
Mosaic for splashback kitchen and bathroom SHONA
Tile for kitchen wall or wall of bathroom and shower, model SHONA
Mosaic - tile ® offers a range of products adapted to your kitchen splashback, bottom of Hood, plan of work, your Italian or your bathroom shower.
Delivery:
France: 48-72 hours
Europe: 4-5 days.
Garanties sécurité
(à modifier dans le module "Réassurance")
Politique de livraison
(à modifier dans le module "Réassurance")
Politique retours
(à modifier dans le module "Réassurance")
Trend par excellence for wall coverings, glass in will make you see all the colors in your bathroom, your Italian shower or even your kitchen splashback.
Are now found everywhere, but especially in our kitchens, bathrooms, shower, swimming pool, steam room, spa.
The color and the brightness of its pretty small tiles are from a mixture of granules, glass and pigments which vitrifient by cooking.
Available in a wide range of colours, glass blends with any style of decoration. Dare the tendency of the ultrabrillance, that of monochrome or play glass accent color in your décor. You've to ask these small cages for a chic and shiny effect.
The transparent look of glass requires the use of a white glue for its installation, and to not alter its luster, it is preferable to use joints with no sand. Glass blocks are adapted to the soil and wall mosaics.
Mosaic glass paste composition:
Each tile is attached to a nylon frame that forms a large plate (± 30x30cm), which facilitates installation.
Tips for laying mosaic glass:
Laying of mosaic plates, must be made on a medium rigid, regular, smooth, dry and dust-free.
It uses the same glues and tools for the installation of a tile or a traditional mosaic.
Tile cutting is done with a simple pliers or pliers to mosaic.
The mosaic tiles glass paste is done in two steps:
The first is to apply the glue on the support with a Tiler comb (2 or 3 mm).
Then you turn the plates the next to each other.
The second step (after drying of the first stage), is to make the joints between the tiles with a plastic trowel and clean the excess glue with a damp sponge.
Cleaning, maintenance tiles mosaic glass:
The maintenance is done with a damp sponge, or a household product current.
Never use of cleaner too abrasive, corrosive or brush or scourer. 

Tiles dimensions: 15 x 15 mm
Total plate dimensions: 300 x 300 mm
Plate thickness: 8 mm
Price for a plate.
To make 1 m 2, must be 11 mosaic plates.
Data sheet
Width

30 cm

Depth

8 mm

Height

30 cm

Weight

1,5 kg

Matiere

verre et pierre

Aspect

mat et brillant

Quantite

1 plaque

taille carreaux

1,5 x 1,5 cm

Surface

1 plaque, 0,09 m2

Couleur

Rouge
Customers who bought this product also bought: