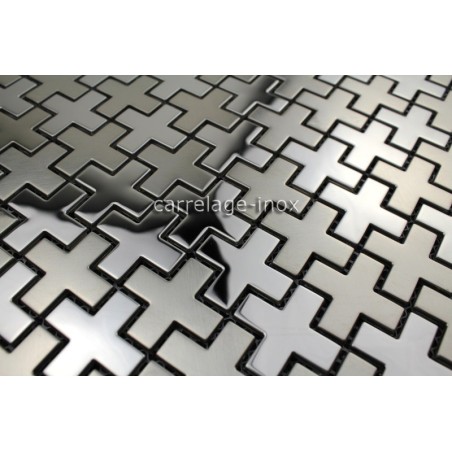  
steel mosaic tile CROSS 1 sqm
Stainless steel mosaic tiles add a contemporary and design touch to your interior. Mainly in your kitchen, splashback, your bathroom ....
Garanties sécurité
(à modifier dans le module "Réassurance")
Politique de livraison
(à modifier dans le module "Réassurance")
Politique retours
(à modifier dans le module "Réassurance")
Our stainless steel mosaic plates are real stainless steel quality 304 plates. The stainless steel coating is designed to withstand the most extreme conditions both inside than outside, it is resistant to weathering, UV.
It offers a high resistance over time and is resistant to water, making it a stainless-related material.
You can use our stainless steel mosaic plates in your kitchen, or ideally credence in the work plan.
In your bathroom, your walk-in showers in the walls or floor ...
Stainless steel mosaic composition:
Stainless steel mosaic tiles are glued onto a porcelain stoneware.
Metal mosaic tiles are mesh mounted and easily cuted with a knife
Cleaning and maintenance:
This quality materials necesite no maintenance. Cleaning is performed in water helped by, if need, household cleaning products.
Implementation of the Stainless steel mosaic:
The mosaic tiles are already stuck on a nylon frame forming a large plate, making it easier and faster for installation. stainless plates mosaic are layed as traditional tiles, whether on the ground or the wall, with the same materials (glue and grout mortar).
You can put them on an existing tile. Cutting tile mosaic steel with a grinder or a metal saw.
Data sheet
Width

31 cm

Depth

5 mm

Height

31 cm

Weight

10 kg

Matiere

Acier inoxydable 304

Aspect

inox brossé

Quantite

11 plaques

taille carreaux

3 x 3 cm

Surface

1 m2